Kelly Tang's compositions have been performed by renowned ensembles such as the Russian National Orchestra, Warsaw Philharmonic Orchestra, Nagoya Philharmonic Orchestra (Japan), Ensemble Contemporain of Montreal, Band of Her Majesty's Royal Marines (UK) and "The President's Own" United States Marine Band.
In Singapore, Tang's works are performed regularly by the Singapore Symphony Orchestra, Singapore Chinese Orchestra, Singapore National Youth Orchestra and the T'ang Quartet. His Jazz compositions have been performed by pianist Jeremy Monteiro with Grammy® recipients Ernie Watts (saxophone) and Randy Brecker (trumpet).
Tang's music has been presented worldwide at Berlin Konzerthaus, Musikverein Golden Hall (Vienna), Sydney Opera House, Suntory Hall (Tokyo), Palais de l'Élysée (Presidential Palace, Paris), Shanghai Concert Hall, Hanoi Opera House, Museum of Musical Instruments (Brussels), The Rodahal (Netherlands), Auditorium di Milano (Italy), St. Paul's Cathedral (London) and Carnegie Hall (New York).  His works for young musicians are performed by all school wind bands and choirs in Singapore.  For Singapore's 50th anniversary celebrations in 2015, Tang's Concerto in Three Movements was commissioned for a premiere by superstar pianist Lang Lang and the Metropolitan Festival Orchestral at the National Stadium.
Tang received his master's degree in Composition at Northwestern University in 1991 and was awarded his PhD in Music at Michigan State University in 1995.  In 2008, he received the COMPASS Artistic Excellence Award from the Composers' and Authors' Society of Singapore. For his contributions in the arts, Tang was conferred the Cultural Medallion in 2011 by the President of Singapore.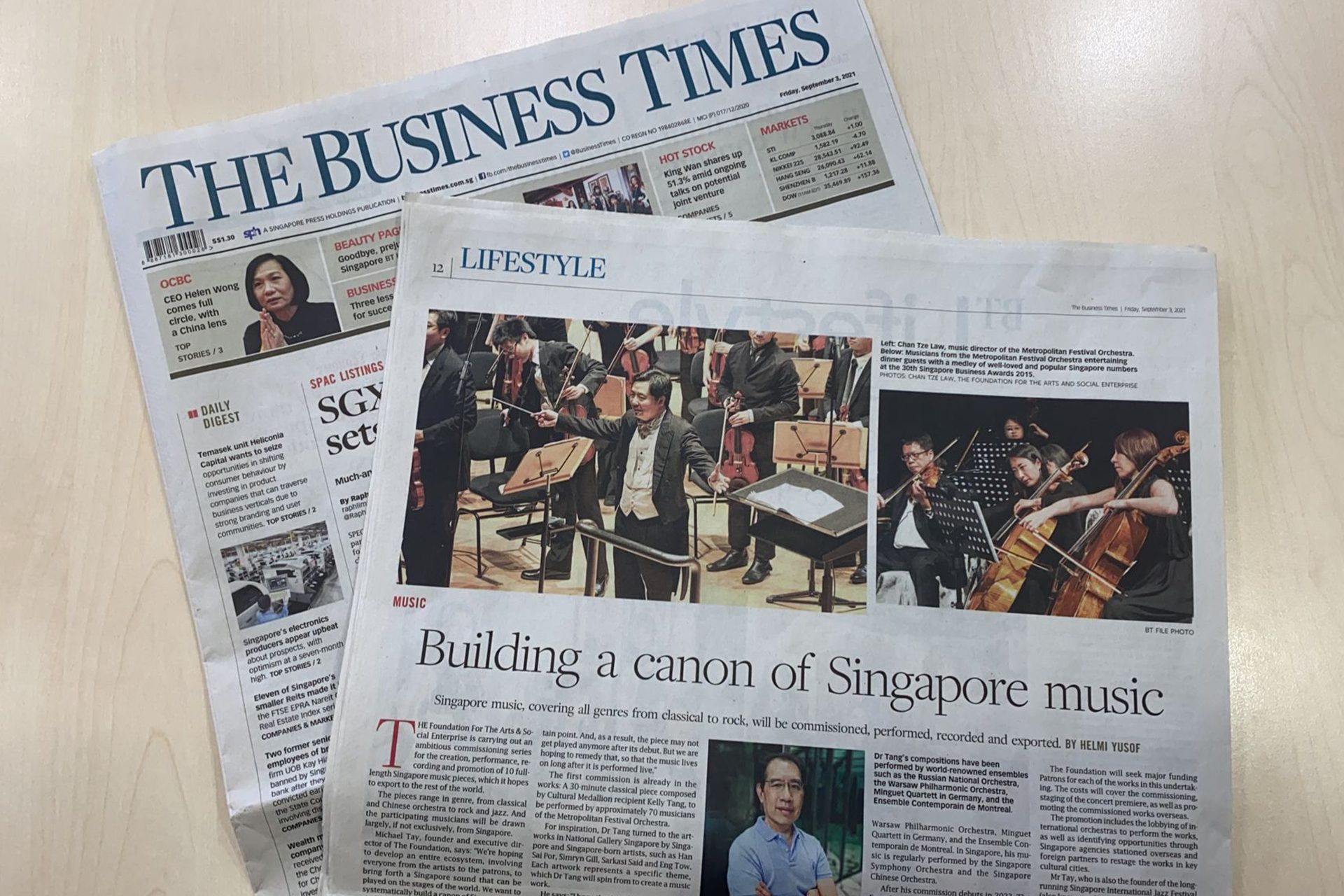 "I'm honoured to be selected as the first composer for this Commissioning Series that is the first of its kind to showcase the best of Singapore composers, and promises to bring them onto the global stage, where their work will be performed to a global audience. This is a large-scale effort to promote Singapore work and art in a field that promises to realise the full potential of the creative talent that we possess."
– Kelly Tang, Composer and Cultural Medallion Recipient